A colorful walk
PLASTICITY
Materials:
small pieces of cardboard in different colors of paint, felt-tip pens or paper wax crayons
What should be done:
1. Aby pomóc dzieciom zapoznać się z nowym otoczeniem, go for a colorful walk around the kindergarten.
2. Daj każdemu z dzieci kawałek kartonu w innym kolorze.
3. Przespacerujcie się wewnątrz budynku, matching the held pieces of cardboard with the objects in the right colors.
4. Po powrocie z kolorowego spaceru, talk about the children's discoveries.
5. Zachęć malców do namalowania i pokolorowania widzianych przedmiotów.
Autumn placemats
Materials:
autumn leaves in different colors and shapes glue cardboard
wax crayons or felt-tip pens laminate
What should be done:
1. Wyjdź z dziećmi na dwór, to collect autumn leaves. Talk about it, why in the fall the leaves change color. Recognize some of the leaves found.
2. Zachęć dzieci do ułożenia i naklejenia liści na kartonie.
3. Poproś malców o dalsze ozdobienie kartonów za pomocą kredek lub flamastrów.
4. Pomóż dzieciom zalaminować gotowe prace bądź zrób to samodzielnie.
5. Pozwól dzieciom używać przygotowanych podkładek podczas posiłków.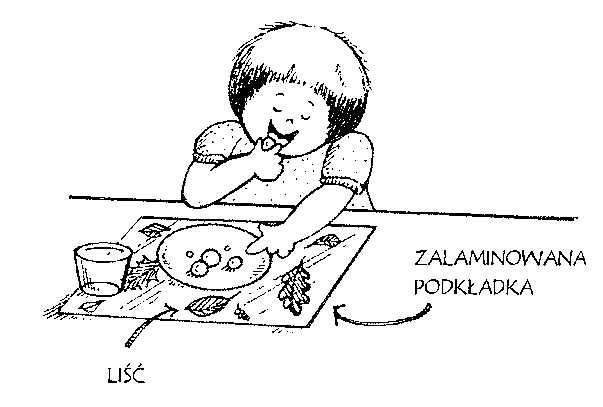 What else can be done:
Plasticity: Offer the little ones to trace the remaining leaves on the cardboard and cut them out.