Snowman from a sock
PLASTICITY
Materials:
white children's socks
moon
rubber bands
felt-tip pens
Buttons
white glue
What should be done:
1. Give each of the children one white sock.
2. Show malcom, how to stuff a sock with cotton wool.
3. Pomóż dzieciom założyć gumki recepturki w połowie długości skarpetki i na górze, creating a snowman from two balls. Leave approx. Above the top rubber band 2-5 cm socks.
4. Have the children draw the snowman's face with felt-tip pens.
5. Show malcom, How to use felt-tip pens to color a sock fragment over the upper elastic, and then fold the fabric, creating a hat.
6. Have the children stick a few buttons on the front of the snowman's bottom ball.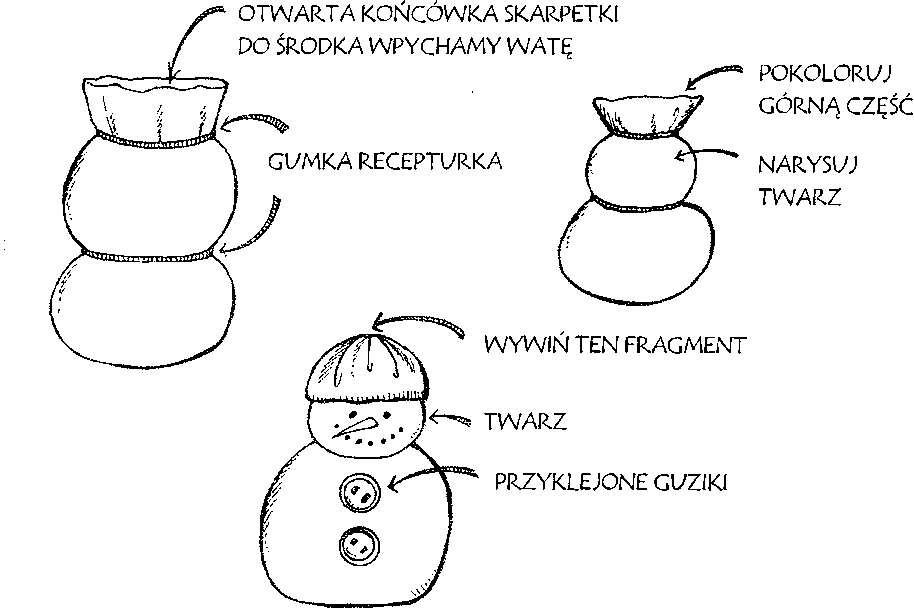 I am a snowman
GESTURES, SONGS AND POEMS
Materials:
lack
What should be done:
1. Sing the following song::
I am a snowman,
I have a stick broom,
Carrot nose,
A row of blacks
When the sun comes out,
I change quickly
Into a wet puddle,
So I won't come out of the shadows!